On May 15th, from 13h30 to 18h30, many activities promoting the 1st Global Walk were held at Vila Franca de Xira, with the participation of approximately 800 "walkers", between students and teachers from 9 local schools, and over 30 representatives of entities and organizations and community members. The objective was to raise awareness about the Sustainable Development Goals (SDGa) among young people and the public in general. The SDGs were set by the UN to be implemented by 2030. Sustainable Cities and Communities (SDG 11) was the goal selected to be the theme of the 2019 Global Walk.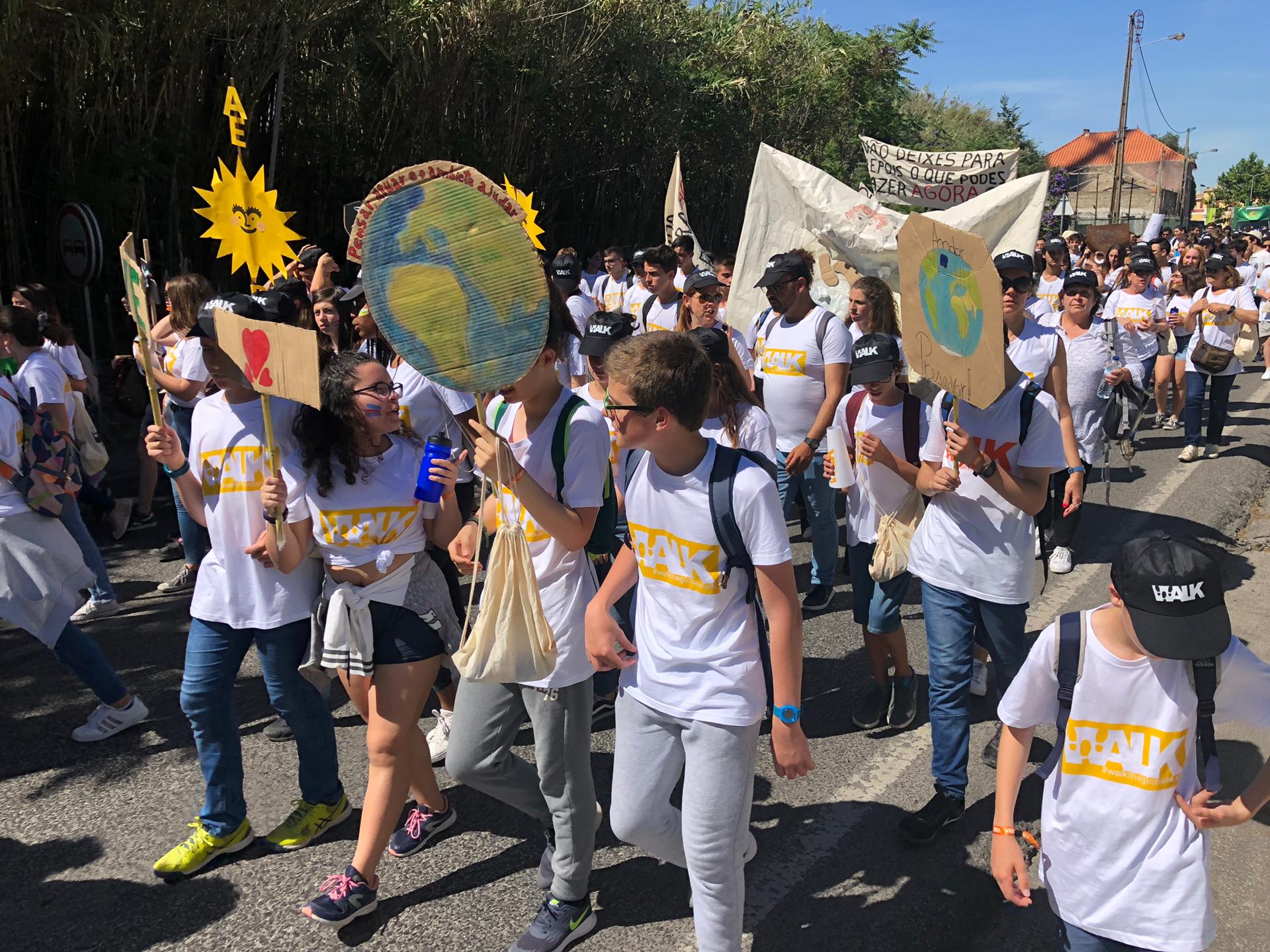 This event is part of the international project "Walk the Global Walk", which aims to gather young people from the 11 European participant countries , around global issues and a more sustainable world. AIDGLOBAL and Vila Franca de Xira Municipality are the project's national partners.
The young "walkers" expressed their excitement from the beginning of the event, which had the presence of a DJ, 2 stilt-walkers, facial paint artists and a Zumba teacher. A institutional moment followed the entertainment – the ribbon cutting ceremony, with the presence of the Vice-President of Instituto Camões, I.P., Gonçalo Teles Gomes, the Head of the Education Division of Vila Franca de Xira, Pedro Montes, the Regional Director of the Portuguese Institute for Youth and Sports (IPDJ), Eduarda Marques and Susana Damasceno, President of AIDGLOBAL and National Coordinator of the project.
Kits with t-shirts, bags, bracelets, caps and reusable bottles were gifted to students and teachers. All participants received a more simple kit with a bag and bracelet.
5 students formed the Portuguese delegation that lead the march. All the people followed, holding banners and signs, chanting watchwords against pollution and climate change. Some of the participants were accompanied by dogs from the Abandoned Animals Official Center – a local association engaged to the cause. A solemn moment took place at the Municipal Chamber Square, where young representatives read their manifesto inviting the President of the Municipal Chamber and other executives to join the Global Walk that ended at the Vila Franca de Xira Urban Park, where another edition of the Youth Festival was being held. The young "walkers" took part of the festivities and enjoyed a play.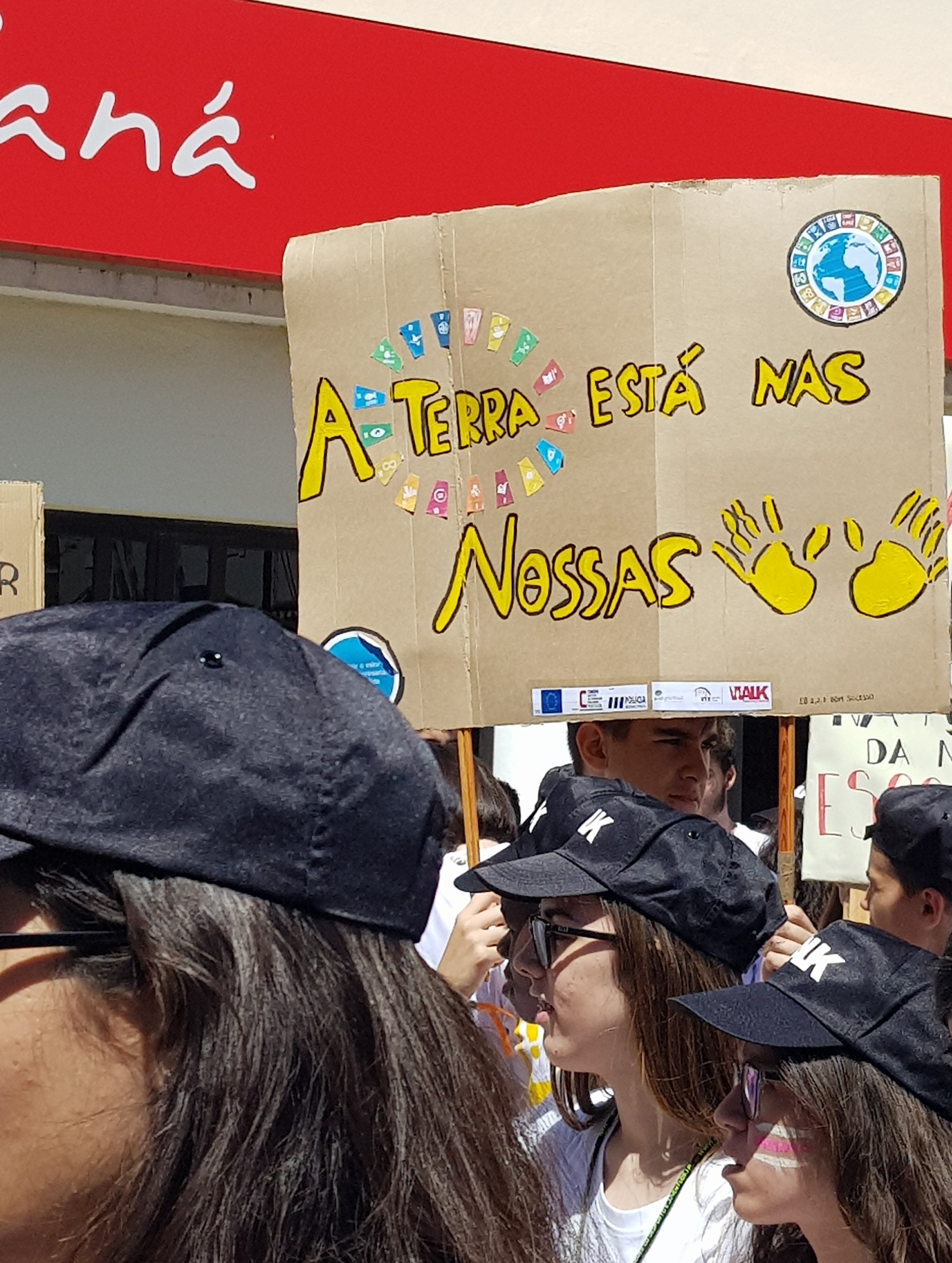 Beside the above mentioned, other local institutions and organizations who supported the event were: Senior University, People's Community Center and Mithós — Exemplar Stories, a local association for Multi-disability.
The 1st Global Walk had the support of SMAS — Municipal Services for Water and Sanitation of Vila Franca de Xira, PSP — Public Safety of Vila Franca de Xira and the UDV Club — Sports Union Vilafranquense.
"Walk the Global Walk" is co-financed by the European Commission – Education for Development Line –  and Camões – Institute for Cooperation and Language (I.P.). It has the duration of 36 months and involves 11 countries and 20 partner entities. AIDGLOBAL and Vila Franca de Xira Municipality are national partners.